PUBLIC FORUM: Town of Conway Open Space and Recreation Plan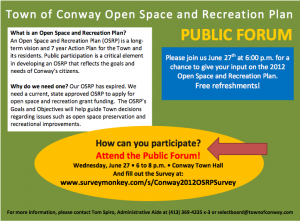 Please join us for a chance to give your input on the 2012 Open Space and Recreation Plan.
Wednesday, June 27, 6 to 8 p.m.
Conway Town Hall
Free refreshments!
What is an Open Space and Recreation Plan? An Open Space and Recreation Plan (OSRP) is a long-term vision and 7 year Action Plan for the Town and its residents. Public participation is a critical element in developing an OSRP that reflects the goals and needs of Conway's citizens.
Why do we need one? Our OSRP has expired. We need a current, state approved OSRP to apply for open space and recreation grant funding. The OSRP's Goals and Objectives will help guide Town decisions regarding issues such as open space preservation and recreational improvements.
For more information, please contact Tom Spiro, Administrative Aide at (413) 369-4235 x-3 or selectboard@townofconway.com
And please fill out the OPEN SPACE and RECREATION SURVEY!